innergeek and the geek test in the printed news
2005.10.31
Featured on the front page of the "Living" section of The Tennesseean in an article by Nicole Garton, entitled "GEEKS RULE!"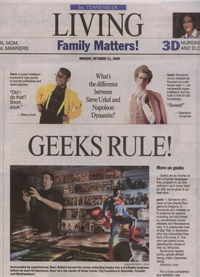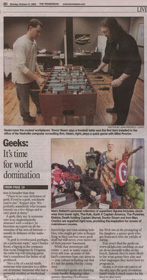 click on the thumbnails to view the articles full size.
2003.07.06
Featured in a newspaper article by Casandra Andrews in Alabama's Mobile Register. Unfortunately, I could not get in touch with her before the story went to print. There is just a reference to the elusive "Vetters." The text of the article is shown here with permission from the author.
If you would like to interview me or include innergeek.us in your publication (printed or online), please contact Yvette Beaudoin (geekmaster@innergeek.us).