Geek Test Version 2.0 (2001)
The Geek Test v.2.0 (December 2001) .pdf file
This test was an updated version of the original Word document, complete with little checkboxes. For the sake of translation into .pdf, I replaced those with two underscores. You get the idea. We handed a paper copy of the test to each person who came to our Geek Party on December 8, 2001. The scores were tallied manually. Wow, talk about Old School. You need Acrobat Reader to view this document.
Check out the awesome original Geek Party invitation (click for larger .pdf):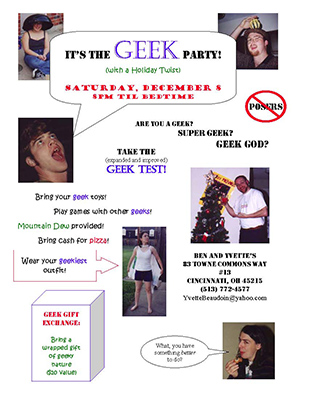 The test was still on paper with a total of 339 questions and little boxes to check. That's a lot of little boxes to check. We actually used pens and pencils. Close to 20 people joined together for geeky games and a Geek Gift Exchange. "Star Wars: A New Hope" played in the background (except for WithaK, who chose to sit, stare and recite every line along with the movie). Gifts exchanged included a Lord of the Rings Aragorn action figure, a Mensa puzzle book, a deck of Anime cards, SD-RAM, and of course a pocket protector. Ted brought "Chez Geek" and we had fun playing that. Though we didn't have a nerd-eating contest, they were available for consumption. Michael Ringenbach won Geek of the Year (see below) and took home a very fancy glitter-and-glue stocking award filled with geek pride.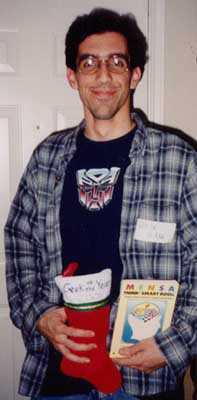 Michael Ringenbach
2001 Geek of the Year